Originally posted on www.greenstonefcs.com
Every volunteer activity is different, but for Stacy Stinson volunteering is a year-round duty. GreenStone's country living financial officer, Stacy Stinson, dedicates her time to the cattle industry in Michigan, specifically the Michigan Shorthorn Breeders Association and the Michigan Junior Shorthorn Association (MJSA). Each year, MJSA members travel to a different state for the National Junior Shorthorn Show and Youth Conference Stacy commonly attends as an advisor.
Stacy lives and breathes Shorthorn cattle. Alongside her husband and two daughters, Stacy raises Shorthorn and crossbred cattle for youth to exhibit at the state and national level. Six years ago, while at a show, Stacy was approached by an MJSA advisor and was offered the opportunity to become involved. Along with being heavily involved in MJSA, she is also the President of the Michigan Shorthorn Breeders Association.
The 2021 National Junior Shorthorn Show & Youth Conference was held in Louisville, Kentucky, a seven-day long competition that is a mixture of leadership skills, educational contests, and cattle showing. Twenty-four Michigan cattle exhibitors, their parents, and Stacy traveled to Louisville for the Shorthorn Safari theme. The entire state stalls togethers, competes in contests, participates in opening ceremonies, and stay as unified as possible throughout the week. Out of all the states participating, Michigan won second place in the herdsmanship contest which was based on the creative decorations and upkeep of the stalling area throughout the week.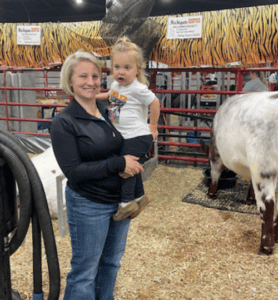 Stacy Stinson pictured with her daughter at the 2021 National Junior Shorthorn Show & Youth Conference
When such a large group attends the show, planning starts early for Stacy and the other advisors. Preparation includes shirt designs, stall decoration planning, stalling confirmation, preparing for the tailgate, and making sure all the kids know where and when to go all week. Some of the contests include salesmanship, public speaking, quiz bowl, and arts such as photography. Later in the week, the youth had the opportunity to compete with their cattle and Michigan had multiple class and division winners making it a very successful year!
This year, the competition is being held in Kansas City and even though Stacy is unable to attend, she is still involved with preparation. After a hiatus due to Covid, MJSA was able to hold a State Show in May to prepare and practice for Nationals. This event amps up the team's excitement and gets all the members ready for Nationals coming up!
The most important item to make these shows successful is all the support from people in the cattle industry. "There's a lot of people that do a lot of work for this association," Stacy said. "With Greenstone's support as well, we all make sure these events continue and are successful for the young Shorthorn enthusiasts."
Without clubs and organizations like MJSA, youth lose the ability to network and make connections with older members of the cattle industry. They also lose the chance to develop lifelong skills that will impact them in their future careers.
"Get involved! Especially if you're passionate about something, dive in headfirst because that's the only way to do it. If we don't have volunteers, a lot of associations like this would just kind of fall to the wayside and a lot of these kiddos wouldn't have the opportunities that we offer," explained Stacy.
GreenStone encourages everyone to get involved in their community and help make organizations like these possible. To learn more about how to get involved visit Open Fields Blog | GreenStone FCS.
If you or someone you know is interested in joining the MJSA, visit them on Facebook to learn more!